Open Mind "Future and Intelligent Internet"
Future and intelligent internet memang sangat menarik untuk diketahui, dipelajari, dan diteliti. Penguasaan terhadap ini akan memberikan nilai tambah bagi kita, khususnya untuk mahasiswa yang akan segera lulus kuliah. Bukan tidak mungkin bahwa beberapa tahun lagi inilah yang akan dicari-cari oleh industri.
Btw, open mind yang dilaksanakan hari ini dihadiri oleh 49 peserta yang terdiri dari rekan dosen, mahasiswa Tel-U dan juga umum. Semoga dapat memberikan gambaran mengenai Named Data Network yaa.. Tunggu open mind berikutnya.. !!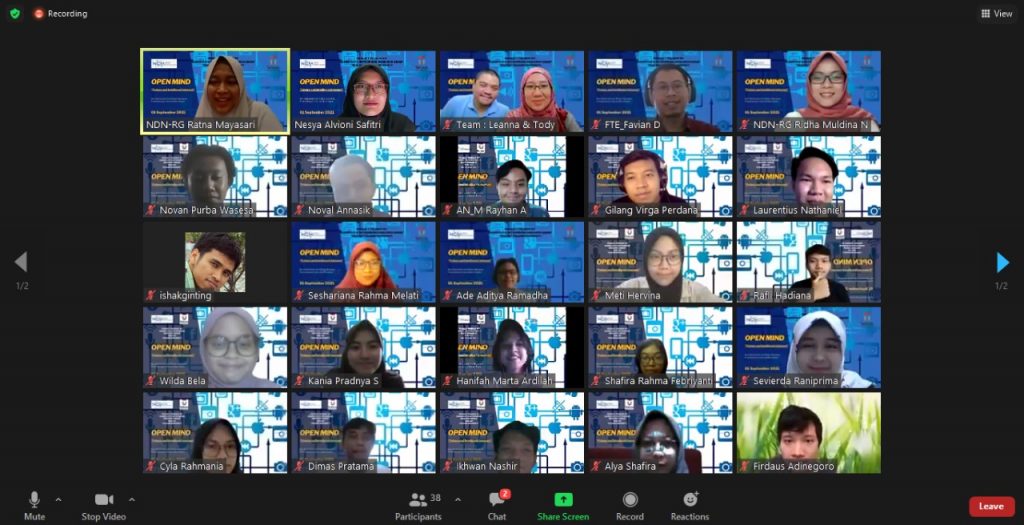 Open Mind: Future and Intelligent Internet
Halo guys!! Ada info menarik nih📣

Tim Named Data Networking Research Grup "NDN-RG" Telkom University akan mengadakan sebuah acara menarik.

OPEN MIND – Future and Intelligent Internet
Acara ini mengajak teman-teman semua untuk berkenalan dan belajar lebih jauh tentang internet masa depan. Pelaksanaanya pada:
Tanggal: 01 September 2021
Pukul: 10.00 – 12.00 WIB
Link Zoom: https://bit.ly/LinkZoom-FutureandIntellegentInternet

Dengan mengikuti acara ini kalian bisa mendapatkan e-certificate dan tidak dipungut biaya apapun.

Jangan sampai kelewatan acara ini. Jadi ayo segera daftar dengan klik link di bawah ini.
https://bit.ly/RegistrasiOpenMind

Sampai jumpa kawan. Kami tunggu partisipasinya😊.
CP:081330003568(Nesya)